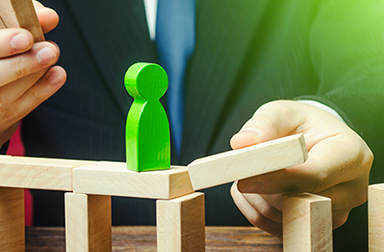 Selling more sponsorships for an event can seem like a daunting task. Suppose you're trying to figure out how you're going to manage everything effectively and efficiently. In that case, the following guide can teach you how to find unique ways to reach your audience and improve the guest experience at your event. It can also teach you how to measure success the right way, select the right key performance indicators (KPI) and build better sponsor relationships.
But before you do any of that, you'll need to figure out the objective of each sponsor so that you are equipped with the right tools and knowledge to approach them (change, need a diff. word) and, in turn, increasing your business chances of success.
Figure Out the Objective Before You Start Selling
Before you start selling any sponsorships for the event in question, it helps to know the sponsor's objective. Don't just send over the standard media kit or price list. Instead, take the alternative route and ask your sponsors,
"What's your goal for the event?"
Listen to them carefully so that you can determine their main hopes and goals. Then try your best to emulate that into your event. They are your audience, and by understanding their needs, you can cater specifically to them with a well-formulated plan, executed efficiently.
Figure Out Which Companies to Reach Out to
You'll likely have many options when it comes to companies that might be able to sponsor your event, but that doesn't mean every company would be a great sponsor. Look for sponsors whose audience matches yours in both demographics and interests to narrow it down a little.
It would help if you also made sure that the companies you're thinking of reaching out to understand the value of event marketing. You don't want to have to try too hard to convince companies that this would be a good idea for both of you—you want companies that can already see the inherent value.
Finally, you'll also want sponsors who will focus on the ROI of the event. You don't wish for vanity speakers. You want the sponsors who are looking to get a little more out of the partnership. One's best bet? Focus on companies that are looking for not only a collaboration but also understand that this is not a one-way street. Demonstrate your value and eagerness to gain their trust while also building a new relationship and possible sponsorship.
Find Unique Ways to Reach Your Audience and Improve the Guest ExperienceImproving the guest experience means finding ways to help the sponsors reach their audience while keeping guests thoroughly entertained.
You might try offering something guests could take home to their families or planning a fun activity during the event.
Some ideas you could use to spice up your event and get people involved (and the sponsors more exposure) include the following:
Silent auctions
Raffles
Sponsored bar
Gamification
A red carpet
Casino night
Carnival theme
Charity photo booth
Fashion show
Roaming competitions
Mindfulness workshops
Dessert signage
Segmented escape rooms
You can also come up with some of your ideas. Remember always to utilize ideas that make the most sense for the atmosphere you are trying to foster and make the most sense for the sponsors.
Measure Success the Right Way
If you want to determine how successful your event was, you'll need to know how to measure your success correctly. And your sponsors are going to want to know, too. After all, these sponsors are spending their hard-earned money. They want to know that their dollars are utilized not only efficiently but effectively. The proof is in the event pudding!
It is necessary to create key performance indicators (KPI) to help you measure the success of your event was and have something to show your sponsors.

KPIs for Your Event Below is a list of key performance indicators that we believe, when incorporated successfully, are timeless:
Total registrations
Customers acquired
Event check-ins
Registration by ticket type
Cost per customer acquisition
Speaker engagement
Accounts influenced (ABM)
Gross revenue
Live polling response rate
Number of active community members
Social media mentions
Cost to revenue ratio
Number of qualified sales leads
Session analytics
Sponsorship satisfaction
Pipeline generated
Number of messages sent within the event community
Net Promoter Score (NPS)
Number of returning attendees
Revenue by promo code
Make a Great Pitch and Build Better Sponsor Relationships
Suppose you genuinely want to sell more sponsorships for your events. In that case, one needs to learn how to deliver a great pitch to Sponsors while also learning how to build even more significant relationships with these future companies and build and create significant sponsor relationships. That means slow down and take your time to understand and pay attention to the small details; they are what matter..
For example, look for the best times to call sponsors. Call Human Resources and ask when the best time to call would be. Then, you'll want to make sure you get into contact with the right person at the company. Depending on the organization's size, you might be speaking to the owner or the sponsorship department (if you are dealing with a larger company).
Reaching out months in advance is always the best practice. You want to give sponsors as much time as possible to be considerate and to ensure that they'll be able to sponsor your event.
What to Do When Reaching Out to Potential Sponsors
Before reaching out to potential sponsors, check their sponsorship guidelines. You'll also want to:
Prepare a list of your previous sponsors along with some key attributes
Be concise (you only really need 20 seconds to introduce your conference, mission, audience, and any press that will be there)
Know your ideal market (so you can convince potential sponsors that your event is the best event for them to get involved with)
Attempt an emotional connection (tell a story that helps them connect emotionally with your event and your company)
Tell them your mission and why it's important to you and your organization. Show them that you share their values.
The Path to More Event Sponsorships

Selling more sponsorships for your event means using every resource at your disposal. eShow offers registration management, housing, and travel management, a virtual event management platform, lead retrieval, banquet seating and direction, and network and appointment management, and more.
https://goeshow.com/wp-content/uploads/2021/09/How-To-Sell-Additional-Sponsorships-for-Your-Event-Featured-Image.jpg
252
384
regienald.paras@goeshow.com
/wp-content/uploads/2021/05/eShow_logo2-300x109.png
regienald.paras@goeshow.com
2021-09-10 06:00:40
2022-05-04 15:58:53
How To Sell Additional Sponsorships for Your Event