Experience
the Umbrella effect
Learn more about our 
event management master suite 
and change your event ROI, forever.
built by event professionals, for event professionals
Our all-in-one event management suite will 
alleviate
your biggest of planning pain points, and
elevate
your live, virtual, and hybrid events.
Reduce your event technology stack and complete your show management tasks once. Let our event management suite of products do its magic of integration, persistency and data organization.
your mission
is our mission
We are focused on our customers by creating an atmosphere of service excellence.
At eShow, we believe that the success of your event is a reflection of us and strive to ensure you have a great experience. We take pride in offering exceptional customer service and delivering world-class solutions that make your event management easier.
HOW The Largest hotel owners association uses
AAHOA, the largest hotel owners association in America, uses eShow to deliver personalized and interactive events while simultaneously providing powerful data analytics and reporting tools. Read on to learn how AAHOA conserves resources and strengthens their industry presence by choosing eShow.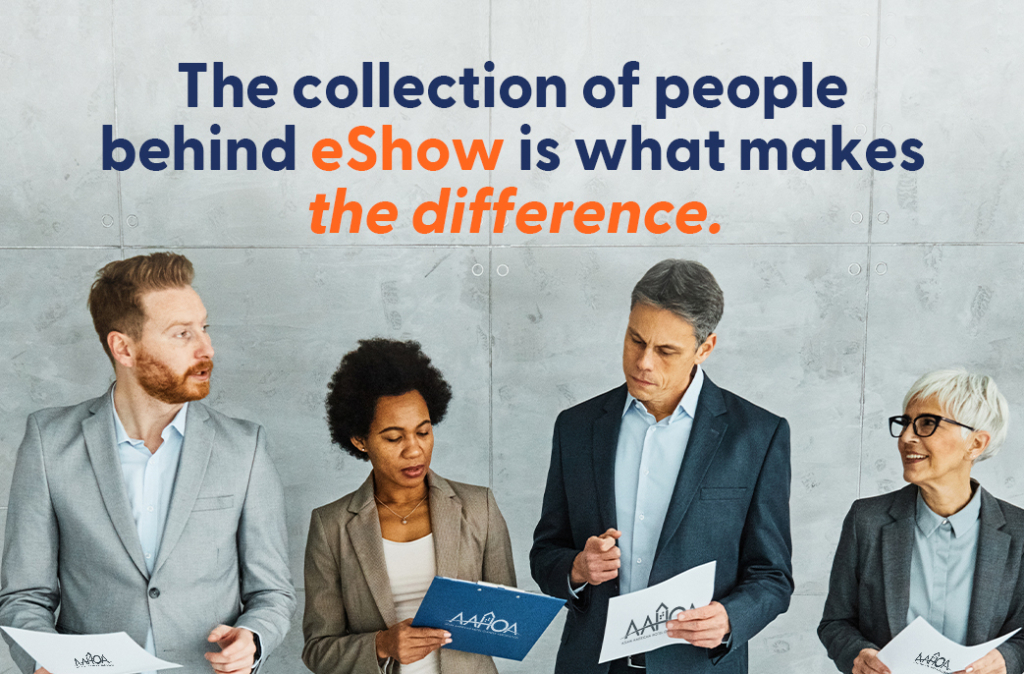 Discover the future of event technology through a series of webinars featuring eShow's latest product enhancements. From cutting-edge tools to immersive digital experiences, each webinar offers valuable insights and demonstrations by industry experts. Immerse yourself in the world of event technology as these webinars unveil the next generation of tools and enhancements that are revolutionizing the way we plan, execute, and experience events.
We've been planning events digitally since 1996. This isn't new for us.
Association, trade show and conference leaders worldwide trust eShow to offer a fully customizable, reliable and comprehensive event suite to ensure success, regardless of your event delivery method. 
We've helped thousands of events succeed
Associations, Higher-Education, Medical Trainings to Tradeshows
Robyn J.
Association for Asian Studies
In case I haven't mentioned this before, we really like Eshow. Everything is very simple to learn and intuitive. That's really important for us. We appreciate the assistance but also like that we have access to make some adjustments as needed on our own.
Kimberly H.
Eastern Analytical Symposium, Inc.
The functionality, capability and integration with CRM is second to none. Tthe staff worked hard to accommodate our needs and made it happen. The autonomy this software provides to exhibitors and attendees really freed up my time to focus on other aspects of my job.
Laura S.
OneStream Software, LLC
It's great to have all of our meeting needs under 1 platform with 1 login. The eShow platform is also robust and can meet all/most of your needs with the platform they currently have. We also appreciate there is support readily available when you need assistance or to setup a module and also they offer registration support onsite, as well.
You are only as good as the event management suite you are using. 
Let's get started today, and elevate your events for tomorrow.