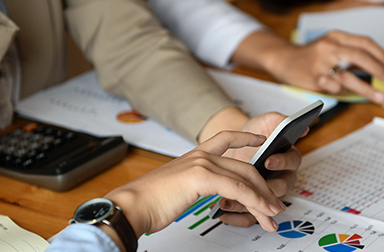 From a complete industry shutdown to the rush into the virtual world, the COVID-19 pandemic has certainly kept event professionals on their toes. As more and more people get vaccinated, the interest in in-person events has returned. However, this has created new challenges.
Many event managers are unsure of what the future holds. In a world where the COVID-19 virus remains relevant, how do you balance the desire for human contact with the need to ensure safety and comfort? As we continue to navigate this "new normal," you can expect to see a host of new trends arising.
For event managers, it's essential to prepare for what's coming next and lead the way. So here's a closer look at some of the most crucial industry shifts happening right now.

Hybrid Events
As things slowly begin to open back up, hybrid events are positioned to be this year's hottest trend. While this isn't a new concept, the value has become highly apparent in today's contemporary world. Offering both in-person and virtual event options allows your guests to choose the level of engagement that makes them feel most comfortable. In addition, since more people can attend without the expense and hassle of travel, offering a virtual option also makes your event accessible to a far larger audience.
Hybrid events offer many benefits. However, planning them creates some challenges. It's critical to set up these events in a way that makes both in-person and virtual delegates feel welcome and engaged. Providing the best possible attendee experience also requires a significant amount of planning and preparation.
Forward-thinking event planners and managers are already procuring the tools and skills they need to create and execute stellar hybrid events. So not only is this format not going away any time soon, but it's also likely to become standard practice rather than an exception to the norm.

Interactivity
One potential drawback of a hybrid event is the challenge of keeping your attendees' attention. While it's easy to pack a three-day, in-person event with fun and exciting activities, recreating this experience online is a bit more complicated. Your virtual attendees may not be thrilled about spending an entire day staring at a screen and are even less likely to want to commit to a multiple-day event.
Shortening your event is a great option. However, it still may not be enough. When planning a hybrid event, it's important to keep engaging by adding plenty of interactive activities. This may include question and answer sessions, tutorials for hands-on projects, breakout sessions, and networking opportunities.
Investing in a virtual event management platform is one of the best ways to ensure your off-site guests enjoy a fully interactive event experience. This will also allow exhibitors to promote their products, provide sponsorship value, and enable two-way communication between remote attendees, sponsors, and exhibitors.
You may also consider providing perks for your virtual attendees to make the experience as close to the "real thing" as possible. For example, you may consider providing vouchers for food delivery services, like Grub Hub or Uber Eats, or having physical swag bags delivered right to the attendee's front door.

Focus on Safety and Sanitation
Despite the increase in vaccinations, it's still critical for event planners to stay vigilant regarding safety and sanitation. In addition, for the time being, the need for social distancing remains. This makes event design more complex and requires additional planning. For example, you'll need to stay conscious of the layout of open spaces and consider using a seating management program to maintain proper separation during seated portions of your events.
It's also critical to ensure your venue has cleaning protocols in place and communicate them clearly with your event attendees. Other accommodations, such as mobile app technology to limit physical contact between attendees and staff, will also remain the norm for the foreseeable future.

Smaller Regional Events
For now, mega-events will likely remain on hold. Instead of national conventions and tradeshows, companies are more likely to host separate regional events. As more people get comfortable, you may see a shift back towards more significant events. However, this possibly won't occur until 2023 or later.
In the meantime, you may see events slowly getting more prominent. So, for example, while a company may host four to five events across the country this year, they may cut it down to separate east-cost and west-coast affairs next year.

Data-Led Decision Making
The impact of the COVID-19 pandemic has changed everything. Old assumptions are no longer valid, making data-driven decision-making even more critical. Not only do event planners and organizers need to analyze new information coming in, but you'll need to do it with far greater attention to detail.
Studying your data will help you clearly understand what's going on in your regional area, across the nation, and around the globe. This will allow you to stay ahead of changes and prepare you to adjust your approach when the need arises proactively.

Continued Need for Flexibility
If recent events have taught us anything, it's that we need to expect the unexpected. Whether it's a resurgence of COVID-19 or another serious issue, there's always the chance that something could throw a wrench in your best-laid plans.
Now, more than ever, event planners and managers need a way to clearly and efficiently communicate changes with event hosts, sponsors, and attendees.
Using a meeting logistics manager will help you orchestrate all the details of your event and serve as a single point of communication. Not only will this allow you to keep all the details you need at your fingertips, but it will also help you quickly make adjustments as needed.
The Next Generation of Event Planning
As the world continues moving forward, it's critical to make sure you're prepared for the next era of events. Whether you're hosting in-person, full digital/virtual, or hybrid events, eShow offers various products and services that will help ensure they're both engaging and effective. Contact us today to request a full demo!
https://goeshow.com/wp-content/uploads/2021/09/How-To-Prepare-for-the-Next-Era-of-Events-Featured-Image.jpg
252
384
regienald.paras@goeshow.com
/wp-content/uploads/2021/05/eShow_logo2-300x109.png
regienald.paras@goeshow.com
2021-09-10 05:19:09
2022-05-04 15:58:58
How To Prepare for the Next Era of Events