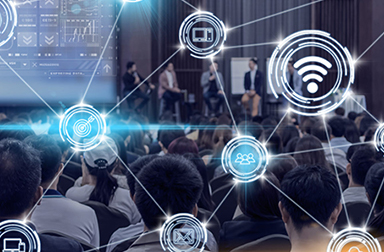 As an event manager, it's important to know if your hard work planning the event paid off. Therefore, you need to collect and analyze relevant data to measure the success of your event, whether it's in person, virtual or hybrid. Attendance is frequently used to gauge event success; however, this metric alone can't provide you with enough information to ascertain the event's true success. For example, the number of attendees isn't enough data for measuring engagement or satisfaction — metrics that'll prove useful in securing sponsors for future events.
Before you can measure your event's success, you need to define its goals clearly. For example, do you want to increase brand awareness? Increase traffic to the company website? Although event goals will vary from one company to the next, there are nine types of data you should collect before, during, and after your event to measure its overall success. This data will show you what went right and what you can improve in future events.
1. Ticket Sales, Registrations, and Check-Ins
The number of tickets sold (or registrations for free events) is an important metric in determining an event's success. This number shows the effectiveness of your marketing strategy. The number of check-ins is another metric to consider, as it's not uncommon for people to buy tickets or register for an event and not show up. If check-ins are substantially lower than registrations, you likely need to interact more with attendees between registration and the event date.
2. Mobile App Downloads
Mobile event apps can provide event managers with data points for measuring event success. For example, calculating the number of app downloads, return app visits, and level of engagement will give you valuable insight into an event's success. This will allow you to implement strategies for future events relevant to those interacting within the app.

3. Repeat Event Attendance
Returning attendees are an indicator of your ability to provide enough value to keep people coming back for more. In addition, returning attendees are likely to be brand evangelists and prone to not only convert but to spread the word about your brand.
4. Visits to Event and Company Websites
To measure the level of interest in your event, keep track of all event and company website traffic (unique visitors, page views, and conversion rates) for up to a month following the event. If your event was successful, you should see a rise in direct traffic numbers. This indicates that people are either seeking additional content or looking to buy your product/service.

5. Social Media Engagement
In today's digital environment, monitoring the social media activity of event attendees will give you an indication of your event's success. Before and after the event, ask attendees to use a specific event hashtag when posting on Facebook, Twitter, and Instagram. This will allow you to measure audience growth and track the number of times the hashtag is shared across these platforms.
As a qualitative means of assessing event success, review attendees' social media posts for positive or negative feedback. For example, which sessions, speakers, or exhibitors garnered the most interest? Did attendees have pain points that you failed to cover?
6. Post-Event Surveys
Send post-event surveys to attendees to measure experience and gauge satisfaction. You can increase the number of responses by keeping your surveys short — asking only the most pertinent questions. Your survey can be as simple as:
Is there anything you feel we need to improve for future events?
How likely are you to attend another [company name] event?
On a scale of 1 to 10, how likely are you to recommend attending [name of event] to a friend or associate?
An online resource such as Survey Monkey makes it easy to create and distribute your post-event surveys and calculate your Net Promoter Score (NPS). This metric will give you an idea of how many attendees were satisfied with your event enough to attend future events and encourage others to participate.

7. Cost to Revenue Ratio
If you're organizing a corporate event, you'll likely want to generate revenue in addition to building brand awareness and sustaining customer loyalty. Ideally, the costs (money, time) of carrying out your event will be less than the revenue generated (ticket sales, sponsorships, exhibitor fees, etc.).
The cost to revenue ratio is expressed as cost/revenue. Thus, a favorable ratio will be less than 1, and the lower it is, the better. To calculate this metric, you'll need to measure:
Forecasted cost; forecasted revenue
Actual cost; actual revenue
If your cost to revenue ratio is higher than anticipated, your event wasn't necessarily a flop. For example, did you obtain a substantial number of newsletter signups? That's one way to reach potential customers who could give you repeat business for years to come.
To encourage sales and keep track of revenue resulting from an event, give attendees a promo code to purchase your products or services.
8. Sponsor | Exhibitor ROI
Providing sponsors and exhibitors with favorable Return On Investment (ROI) data will encourage them to participate in future events. Track visits and conversions on sponsors' websites. The more data you can provide, the better.

9. Marketing ROI
Depending on your audience, email marketing is still a viable method of reaching prospective event attendees. If you market events via emailed newsletters, measure the open rate to gain insight into the event topics attendees are interested in.

Wrapping Up
When evaluating success metrics for your event, compare your most recent event to previous events to see where you've hit the mark and where you need to step up your game.
According to a study by event research firm Freeman, collecting and analyzing event data is a major pain point for event managers, with 46% of respondents reporting a lack of effective data analysis. In addition, 37% reported significant challenges in accessing comprehensive event data.
With our robust yet flexible solutions, eShow can help you cost-effectively collect the data needed to accurately measure your event's success. Select a singular product or bundle products to meet your data needs. Think of eShow as your one-stop shop for all of your event management needs. We give you everything you need to fly solo, but we're always here if you need us.
https://goeshow.com/wp-content/uploads/2021/09/9-Types-of-Data-to-Collect-From-Your-Next-Event-Featured-Image.jpg
252
384
regienald.paras@goeshow.com
/wp-content/uploads/2021/05/eShow_logo2-300x109.png
regienald.paras@goeshow.com
2021-09-10 05:44:05
2022-05-04 15:58:56
9 Types of Data to Collect From Your Next Event