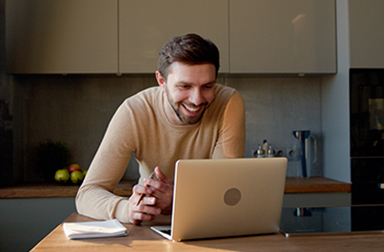 As you present more of your events online, you may need to reinvent your approach. While you can use the latest technology to help you craft a stunning virtual event and potentially reach far more people than ever before, you still need to ensure that your attendees are engaged. Here are eight ways to keep those eyes glued to the screen so that they absorb your content and stay on track.
1. Virtual Networking | Attendee Chat
There is nothing like a live event when it comes to building camaraderie and enhancing the shared experience. It may be hard to replicate some of that "magic" for virtual events, but that does not mean that attendees need to feel isolated or somehow distant.
You can make sure that they interact with each other by setting up ways to connect. For example, you can open topic-specific chat rooms if your events cover many different areas. In addition, you could post a list of attendees in each chat room to spur others to join.
Make this part of your mobile event app's functionality, ensure that this asset has the messaging capability, and look at the many solutions from eShow to help get you started. Interact with attendees before, during, and after the event to plant comfortable seeds with conversation starters in each chat room if necessary. It gives it not only a personal touch but shows you care by being in the chat as well. That should get the ball rolling!"
2. Getting Their Input | Live Surveys and Polls
For best effect, you should constantly interact with your attendees in the run-up to the event. This effort will help build interest and engagement, and this process will be even more potent if you celebrate their perspective. Continue this interaction through your virtual events by running live polls or surveys. It could be helpful to look back on these as a case study or reference point when planning and implementing new ideas for your next major event, as they can help you improve the structure or content for next time.

You do not need to make all your polls or surveys serious, either. Instead, throw in some fun questions to break the ice, and prompt further interaction.
3. Introducing the Fun | Gamify Your Event
Everyone likes a challenge, and you can engage your attendees by throwing in a game or two during the event. You will need to be creative, though. Draw up competition and allocate each attendee a score depending on their performance. Perhaps you can make this challenge last throughout the event and use a pop-up screen to post the ever-changing leaderboard. Motivate your attendees to score by giving away interim prizes and offer a lovely award for whoever scores the highest points. Put the icing on the cake by presenting these awards in a virtual ceremony.

Combine the ceremony with a significant announcement of some kind, keeping everyone on the edge of their seats and encourage them to stay until the end. Do not be afraid to weave Social Media into your games! It can help spread the word even further and make it even more worthwhile for your attendees.
4. It's All in Presentation | Focusing on Your Platform
When you run a live event, you often have the luxury of working with the design team (both in-house and at the venue) to ensure that everything looks spectacular for your attendees. When you stage a virtual event, it may be difficult to replicate that type of "wow" factor, but you certainly need to focus on your platform to encourage engagement.

A well-designed portal will impress your attendees. If you can demonstrate the ease and simplicity of navigating your portal, you can worry less about your audience getting on and focus on the topic at hand by keeping them engaged. You will want to avoid confusion at any stage, or it may discourage your attendees, and they may surf elsewhere in the background. Only use the most effective platform for your virtual event if you want to keep people glued to your content. Have a look at the Virtual Event Management (VEM™) Platform from eShow for inspiration.
5. Content | Remains King in the Virtual Landscape
While it may be more challenging to design your online portal than your live event, you certainly need to make sure that your content is as powerful as possible. You may want to take an entirely different approach. For example, focus more on visual aids or interactive devices instead of a talking head to garner attention. Remember that your attendee may encounter distractions on the other end of "the line," and you may need to exert some additional effort to control their attention.

Keep those sessions short for best effect. While a live attendee may nod off briefly if a session goes on too long, a virtual attendee may disappear altogether in that case.
6. Push it | Getting Instant Engagement
Everyone walks around with a smartphone today, so use this as a tool in capturing your audience's attention. Thank your attendees for their competition entry or congratulate them as you push out the results. Warn them that a keynote will start soon, so they get any other distractions out of the way first.

7. Provide the Answers | Handling Those Questions
Ensure that you have all the collateral at hand so that attendees can get answers to their frequently asked questions as painlessly as possible. Put a clear link at the top of the event portal but make sure that you do not encourage them to go down a rabbit hole when accessing this information. In other words, please do not include any other links on your FAQ page but give them one option that will take them back to the portal. Alternatively, make the FAQ a pop-up instead, and think about using video as a medium to answer those questions more succinctly instead.

8. Cameras on – and Ready!
Finally, add the element of surprise. In the beginning, advise your attendees that they should always keep their cameras on during the event. Then, tell them that you will call a few of them out by name during the session. This threat should keep them awake and engaged and ready to hold up their virtual hand if called upon to do so!
Maintaining their Attention
We put the "E" in engaged! There are many ways to bolster engagement whenever you run a digital event and some great tools to help make your job a lot easier.
Available Solutions
Check out the solutions or products from eShow. Many of these tools work together seamlessly or are purchased separately to help make your event a success. For example, look at the event website offering – a customized website with no reason to worry about code. Or investigate the Virtual Event Management (VEM™) Platform that converts all the traditional offline event elements into a highly customizable virtual world.
https://goeshow.com/wp-content/uploads/2021/09/8-Ways-to-Get-Attendees-to-Participate-at-Your-Digital-Event-Featured-Image.jpg
252
384
regienald.paras@goeshow.com
/wp-content/uploads/2021/05/eShow_logo2-300x109.png
regienald.paras@goeshow.com
2021-09-10 05:57:10
2022-05-04 15:58:54
8 Ways to Get Attendees to Participate at Your Digital Event